Overpronation Insoles
BOLLSEN® Insoles
1 Package £57
2 Packages £77 instead of £114
3 Packages £97 instead of £171
NOTE: DUE TO THE CURRENT HIGH DEMAND FOR OUR INSOLES, YOU CAN ORDER A MAXIMUM OF THREE PACKS AT A TIME.

✅  Save up to £120 compared to the conventional, expensive orthopaedic insoles.
✅  Insoles are available in the following sizes: 4 to 12.5.
✅  The insole sizes are in line with the standard DIN (e.g., Adidas shoes)
Order now - Delivery by: Friday, 27.05.2022
From £57.00
Includes 22% DDV
We all know it – the endless search for the best product at the best price. It is the combination of excellent customer service and unique performance. For decades, we have tested a wide variety of products every day and after countless attempts, we have developed the perfect overpronation insoles which are one of the best-selling insoles in Europe.
✅  The test winner among many products in the category "Overpronation Insoles"
✅  Their biggest advantage – those who often wear shoes can adjust the insoles because of the soft Poron® padding on the feet
✅  97% of customers surveyed are satisfied with the performance of our Porr-Pad-relief technology and have noticed an improvement in their quality of life. Especially in the area of heels, Achilles' tendon, upper and lower back
✅  The intensive cushioning of the sole allows you to enjoy a pain-free everyday life.
✅  The conical relief design adapts to your feet and is ideal for long wear (e.g., work shoes or business shoes).
✅  Usable for 650 miles for the sake of the environment
✅  Tested by independent German laboratories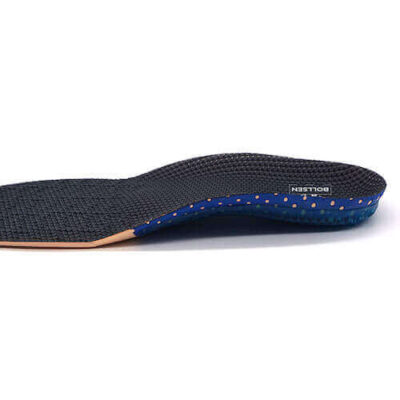 WHAT MAKES OUR PRODUCT SPECIAL IF COMPARED TO THE OTHER INSOLES?
Based on 1700 different tests and years of development, we were the first to have combined two technologies and thereby developed the Porr-Pad-relief technology. This provides the consumer with relief technology through relief-based enhancement and the use of artificial intelligence (comparison of user experience) to ensure that the customer receives the perfect overpronation insoles:
✅  The product offers you extraordinary possibilities to find your way to a balanced and pain-free everyday life.
✅  Unlike many other manufacturers, we have developed our current product in cooperation with our customers.
✅  We are the first manufacturer of overpronation insoles to introduce the Porr-Pad-relief technology.
The BOLLSEN® overpronation insoles add huge value to your everyday life by implementing the patented Porr-Pad relief technology to reduce the unpleasant feelings in your feet. The overpronation insoles are ideal:
✅  against pressure on the insertion of the Achilles tendon
✅  against pressure sores typically on the sole of the foot
✅  against inflammation of the heel
✅  against stubborn heel pain
✅  for wearing a wide variety of shoe types, such as work shoes or business shoes
Especially people who work in shifts (e.g., warehouse workers) are constantly exposed to pain. Take the opportunity now and order your overpronation insoles with a 40-day money-back guarantee if you are not satisfied with the result after three weeks.
We don't just specialise in protecting your feet – we also improve your quality of life by reducing fatigue and stubborn aches and pains, as well as alleviating heel spur discomfort.
One step ahead - especially in recycling, sustainability and environmental protection
We at BOLLSEN are constantly working on new ideas and solutions. As the number 1 on the market, our goal is to become an innovation leader and pioneer, especially when it comes to sustainability. The major goals we have set ourselves are in the areas of recycling, packaging and environmental protection:
By 2025, we will have become a CO2-neutral company
Low carbon footprint – The responsibility for our planet and our environment is also largely in our hands. That is why we are working consistently and at high pressure to reduce our ecological footprint as best as possible. We rely on efficient production, the use of renewable energies and reusable products to achieve our 2025 goal.
Made in EU – Logi(sti)cally Sustainable
Our product originates from the EUR member states, as do our suppliers. The short distances as well as cooperation with environmentally aware suppliers as partners enable us to reduce CO2 emissions by 4900 kg every year.
100x Reuse – Clever Concept of Reusability
You can use your overpronation insoles for at least 650 miles. Compared to other insoles, you save up to £200 per year. With a single product, you also reduce waste generation by 5 kg/year per consumer.
Plastic-Free Products Need Packaging Solutions for the Future
We are testing intensely for alternative packaging solutions and will continue to focus on innovative reusable silicone products.
£171
40-Days Money Back Guarantee
Delivery in 1-3 Working Days
Buy now!
£114
40-Days Money Back Guarantee
Delivery in 1-3 Working Days
Buy Now!
£69
40-Days Money Back Guarantee
Delivery in 1-3 Working Days
Buy now!
Customers who bought this item also bought
£24.95
Includes 22% DDV
Free Shipping
Delivery Time: 1-3 workdays
£30.00
Includes 22% DDV
Free Shipping
Delivery Time: 1-3 workdays
From £57.00
Includes 22% DDV
Delivery Time: 1-3 workdays
Very good product
Have been wearing them for 2 weeks for 10hrs,a day walking about 4-6 miles a day due to my job. The right heel is feeling so much better but still waiting for the left heel to feel better. I know it will so all in all work the money
Good insole, sizing is confusing
Great insoles, but the uk4 as advertised is actually more like a 3.5. so hasn't fitted my shoe that we'll.
Great insoles
These are extremely comfortable insoles; very happy with them.
The insoles did not fit my walking boots, (too narrow) and were returned. I await a credit
Great support from these innersoles
SSL Certificate - 100% Risk Free
100% Satisfaction guarantee